Audrey Hepburn is one of my fashion icons. Lucky for vintage lovers like me, achieving an "audrey hepburn style" isn't difficult. From Breakfast at Tiffany's to Roman Holiday, young women everywhere have been captivated by Audrey's classic style. Whether she was wearing simple black pants or an elegant long dress, Miss. Hepburn was the epitome of sophistication.
An infamous movie star and activist, Audrey was known for her simple, yet sophisticated style. Even after her death, she still inspires vintage dresses and retro hairstyles. Thanks to style bloggers, fashion bible Vogue, and shows like Gossip Girl, Audrey has continued to fascinate fashionistas everywhere with her classic style.
Thanks to Polyvore, I've collected some simple, affordable ways to pull off her look.
Audrey Hepburn Dresses
The most popular Audrey style by far is the long, black dress she wore in Breakfast at Tiffany's. I've compiled a few similar dresses from around the web, as well as a flowered romper.
Audrey Hepburn Style: Little Black Audrey Hepburn Dress, Breakfast at Tiffany's
1. $280, T by ALEXANDER WANG. 2. $930, Burberry Vintage Dress. 3. $300, ACNE Magenta Long
Audrey Hepburn Style: Casual Flowered Audrey Hepburn Dress
1. $45, Parkside Pretty Dress. 2. $69, Floral Halter Neck Dress. 3. $55, You Are Cherry Welcome
Audrey Hepburn Floppy Hats
Another great look for Audrey Hepburn were her classic hats. This large, black hat was worn in Breakfast at Tiffany's. 
Audrey Hepburn Style: 1. $58, Armani Exchange Banded Floppy Brim Hat
2.  $17, Apt. 9 Feather Floppy Hat
3. $55, Goorin Brothers Macey Hat
4. $40, Saturated Floppy Hat
5. $13, Mossimo Supply Co. Brown and Cream Hat
Audrey Hepburn Trench Coats
1. $79, Classic Trench Coat
2. $129, Commuter Trench Coat
3. $1,095, Mid-Length Cotton Poplin Coat
4. $99, Jessica Simpson Trench
What's your favorite Audrey Hepburn Style? 
I wasn't planning on writing a New Years post, or making new years resolutions 2013. 
Throughout my time as a SEO and blogger, I grew to hate seasonal posts. I found them to be overly repetitive, and articles such as "What I'm Thankful For" and "My New Years Resolutions" started to all blend together. I avoided them completely.
That is, until a few days ago. I decided to look at my New Years post from last year. I expected a poorly executed article, full of rambling and nonsense.
What I found was this. I was surprised. It was as if I was reading someone else's words.
The ideas were clear, concise. Besides the obvious obsession with How I Met Your Mother (still love that show), it was great. I found myself a bit lost in my own words.
I promised transformation and change. I promised that, "A year from now, I hope to be sitting behind this very computer, reading this post and knowing that I was completely right."  For the most part, I was right on target.
However, one specific phrase caught my attention- "Everything that happened in 2011 won't matter."
Well, past Melissa, not to burst your bubble, but life doesn't really work that way. Saying things "don't matter" is just a way of distancing ourselves from things we're not proud of. The truth is, sometimes things just change, or don't work out. The only way to come out of it is to gain more self awareness from it.
So onwards and upwards- ahead to 2013. This year, instead of making endless promises, I'll come off my soapbox and back down to Earth. I'd just like to share a few things I want to remember throughout this next year.
Next year, instead of saying, "I hope to be sitting behind this very computer, knowing I was right" , I'll just sit behind the same computer, knowing that I learned something.
1. Stay Thankful – Something I got in the habit of doing over the past few weeks was saying, "Thank you." I got the idea from The Secret. Basically, I just take a few seconds, whether it be while taking a shower, drinking my morning tea or coming home from work, where I silently say thank you. I think staying thank you keeps you humble- being thankful for good health, good family, or good opportunities. Doesn't matter.
2. Stay Positive- I've tried to be more positive– and the hardest part of that is thinking positively. It's easy to get frustrated, and I've started to condition myself not to be phased by little things. It takes an incredible amount of faith and is probably one of the most difficult things I've done. I was driving home a few weeks ago, overly irritated about something stupid. I immediately b*slapped my brain and asked myself- "What's this going to accomplish?" Nothing- negativity never does.
3. Stop Thinking The Sky Will Fall- When it comes to worst case scenario thinking, I'm a master. One small thing turns into "what if this completely ruins everything?"
Instead, I just remember that no matter what, there's no room for failure. Even if something goes wrong, I'll come out better from it.
4. Know Your Limits- One thing I've done over the past year is recognizing my limits. Now, there's things I know don't work for me- whether it be drinking wine during the week, not making time to stay organized, or dealing with overly clingy friends. I try to be strict with myself about that stuff.
5. Put Joy Into Everything & Enjoy Things More- It's easy to be distracted during stressful times, but I hope to slow down and enjoy things more. No matter if it's a project for work, a run on the treadmill or bringing Ruff and Molly outside– I try to find some joy and happiness in it.
6. Know People Aren't Perfect- I tend to be critical of people I'm close with, and it's not because I don't care for them– I just want the best for them. I've come to realize that like myself, no one is perfect. Sometimes the best thing you can do for someone is to stay aware of that- no one is perfect.
7. Work Hard and Don't Procrastinate- When something comes up, I've learned it's best to do it right away. Right away. I've always been one of those people who thinks, "Oh, it can wait," or "Now isn't a good time". When it comes to cleaning, laundry or chores- there's never going to be a good time.
8. Know That The Sky is the Limit- For the past year, I've been pretty grounded. I miss thinking that the sky is the limit- it's something that comes second nature to me. This year, I want to regain that quality about myself.
9.  Be Kind & Appreciate People- I've definitely tried to practice this in 2012, but I know I can do better. I've tried to place more value with the people in my life, and take time to appreciate them more. I congratulate friends and family more, and try to care about what's important to them.
10.  Don't Be A Doormat- I've said this before. I don't like to feel like I'm a doormat, but after experiencing both extremes- letting people walk all over me and not letting anyone ever tell me what to do, I've learned it's best to stay in the middle. After all, sometimes you need someone to tell you that you're wrong.
 What are your new years resolutions 2013?
A few months ago, I came across a Yahoo article about celebrity living rooms. As a home decor junkie, I clicked through. My favorite was this retro, sleek looking living room that belongs to Rachel Green herself, aka Jennifer Aniston.
The warm, beige and tan paired with the dark purple (or appears to be) is pure perfection. The simplistic shelf styling besides a gorgeous window overlooking a koi pond is absolutely breathtaking. Who'd expect anything less than Jen Aniston? 
Although this interior was done by (most likely) unattainable designers, we can try to duplicate it. I broke down the various techniques used to put together this 1970′s inspired space.
#1. Dark Pine Shelves
The dark pine shelving in Jen's living room contributes to it's warm, welcoming appeal. Her pine shelves appear to be floating, but the same look can be achieved with a simple, dark pine shelf or DIY floating shelves.
2. Metal Vases & Metal Rimmed Hurricane Candle Holders
Metal vases, or anything with a metal rim, is great for any space. The simplicity shown throughout Aniston's living room is perfected with these basic, yet stunning pieces.
3. Faux Plants, Grass
For those without a green thumb, fake grass or plants are a godsend. Sure, they get dusty, but at least you don't have to routinely water them. I'm not sure about Jen's plants, but this one looks like a close match.
4. Crushed Velvet Seating
Nothing says 70′s quite like velvet. Crushed velvet furniture makes a great accent for a vintage room. Jen has comfy armchairs, but I like this purple crushed velvet ottoman.
5. Vintage Books
It's no surprise Jen has books about Christian Dior lying around. I found this one via Polyvore on JaysonHome.com, but I'm sure you could get a few on Amazon as well.
6. Retro Coffee Table
This retro inspired coffee table is the perfect piece for a vintage room like Jen's. While this one is new from Target, I'm sure you could find one at a yard or estate sale. The key is matching the dark pine to the bookcase, to keep the color palate continuous.
What do you think of Jen's 70′s inspired pad?
Before I started attending classic car shows, I had little appreciation for them. My enthusiasm for them grew over time, but back in the day– before Melissa's 100, before V&N, I had very limited knowledge/care/consideration for vintage vehicles. Except for one.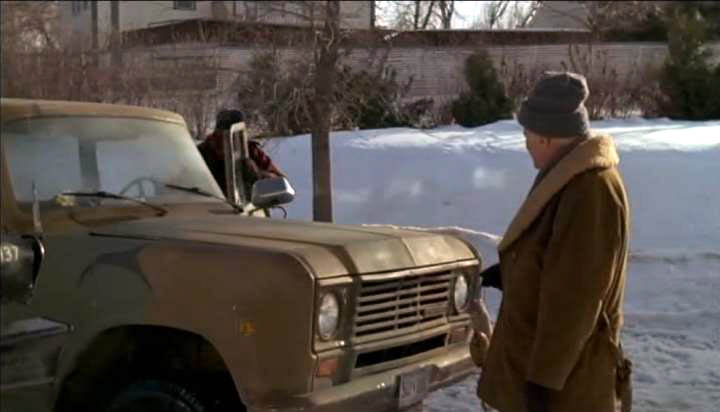 Your eyes are not deceiving you. Grumpier Old Men is one of my all time favorite movies. Blame my strange love for Walter Matthau (that was so my thing before New Girl) and very little expertise in how cars actually run, but this 1974 International Harvester Travelall is the coolest thing I've ever seen. And I want one.
Part truck, part pre-SUV/Jeep hybrid, and part beast, since this vehicle can handle Minnesota winters, it can definitely handle my Philadelphia driving.One day, I WILL own a junky classic like this (pretty sure you can't consider this a classic).
I shared a similar Harvester for sale on Ebay to my levelheaded better half, who responded with, "That looks like a piece of junk."
That's the point, Dave.
A POS like that gives me the license to pretty much do anything I want. I think about driving this monster around Wilmington in some good ol' Carolina red clay mud. I imagine it would go like this:
What's your favorite car? Comment or you'll grow a tail.
Decorating for men… where do I begin? I've seen a lot of bachelor pads- my friend Adam's man cave, my cousin Logan's basement room, my husband's room at his former frat house. Some are decorated extremely well…and others, not so much. Sorry, babe!
I've been blessed with a lot of great guy friends and family members. I trust them for gift ideas for Dave, calling me out on my nonsense, and explanations about sports. In exchange, I offer my witty sense of humor, my advice about women, opinions on clothing… whether they want it or not.
I thought I'd do something different with this post, and talk about basic, no-brainer tips about decorating for men. It's a lot easier than you think. Since a lot of my guy friends/family members are currently in college, or about to get their own place, I wanted to contribute some tips for female friendly decor. Again, whether it's welcome or not.
Here are some room decor tips to live by:
1. The Bolder, The Better
On HBO's long running series, Sex and the City, Mr. Big was THE man! I don't expect any guy to know anything about it, so I'll cut to the chase. After his split with his gorgeous, modelish wife Natasha, he painted his bedroom red. It looked awesome. Try going for a neutral (tans, whites, etc) look, with a bold choice of paint, such as red or black. Both colors symbolize power, passion, and class.
2. Bitches Love Throw Pillows
No one wants to sit on uncomfortable furniture. Do yourself a favor, and get some throw pillows for your bed and sofa. Make sure they're SUPER comfy and cool looking. They don't have to be expensive- you can find neutral colors at Big Lots or Walmart. More fun/colors and patterns are available online.
3. Put a Frame On It
Same goes for frames. They don't have to be expensive. Even the Dollar Store has picture frames. Try buying one or two large frames for posters, and one or two for personal pictures of your parents or siblings. Trust me, even a poster of a half naked woman looks better in a frame.
4. Pick Up Macho Accessories
Home decor can be  masculine and creative. Pick up some fun accessories, such as a cool looking bar cart or a vintage globe- something that has to do with your interests. Look on Etsy or Ebay for some unique finds.
5. Pinesol and Febreeze Are Your Friends
Your apartment, dorm or house should always smell clean. I won't even try to suggest candles. Just give it a good scrub once in awhile. Definitely before company comes over. Trust me, no one wants to walk into your home if it smells like socks. Spray down your sofa with some Febreeze or mop your floor once in awhile.
6. Keep Mess Out of Sight
A lot of guys I've met are messy, and trust me- I get it. I'm the messy one in my marriage, and I've found that having designated spaces for books, documents, etc. helps. Try a coffee table ottoman, or a trunk at the end of your bed. You can keep extra sheets, video games, or honestly, excess junk in there. When people come over, they won't need to step over your things or make room to sit down.
What do you think?
Good tips or did I miss something?
I admit it, I'm a hoarder. I hoard dresses. I'm kind of embarrassed about it.
 Embarrassed? Why?
Well, when I was a kid, I was a tomboy. I was best friends with the boy down the street, played with action figures, and idolized my Dad (still do). Since my goal in life was to be my father's son, dresses were never that important to me. I loved going fishing with him, or hanging out on our boat. Dan and I (my childhood friend) played in the mud in his backyard. When I did play with Barbies, my sister forced me to be the Kens, reinforcing my tomboy-ishness.
Flash forward to junior high, when I was incredibly awkward and shy. While I was becoming interested in makeup and clothes, I still hadn't really embraced the all mighty dress. Yes, I wore them, but fashion didn't mean that much to me. I had friends, (ah, the almighty frenemy) criticize my taste. Not openly, but casual remarks such as, "You should wear more ____________." or "We have different styles," always led me to believe that what they were really saying was, "You look like crap."
Even before my husband and I got married, I tried not to be too risky with what I wore. Secretly, I worshipped Carrie Bradshaw and Audrey Hepburn. I occasionally wore something with lace or ruffles, something besides just a white tee and jeans. My husband used to tease me when we were dating regarding the ruffly shirts I liked. He and his friends started to comment that I wore them a lot, and once I realized it was a joke between them, I freaked.
After years of fashion exile, I changed. I started wearing heels more. I stopped wearing things that were too big for me. I've mostly gotten over my fears, but alas, every dress I buy tends to sit in my closet. I was thinking about it over the weekend, and immediately, decided it was time for action. I took a picture documenting each one (there's still more in storage), and forced Dave to snap a few pictures too (You'll know it's sudden because I took zero time to do anything with my hair).
Dresses were meant to be worn, right?
My hoarding days are over! Let me know what you think of my collection!
What is food for men, exactly? It's man-friendly food. Before you read, keep in mind that this is pretty general– not a stereotype or a suggestion about what men should eat. Let me start with the origins of my man food theories, followed by one of my favorite recipes.
When my husband and I were dating, I played it cool. In real life, I probably didn't, but in my mind, I was cooler than Britney Spears at the VMAS with that giant snake.
I'm not going to reveal my various Dave's heart stealing techniques, but I'll admit to one. I made  man food- food for men. Yup, I'm talking meat balls, garbage plates (Rochesterians only), homemade macaroni and cheese, pulled turkey, and one time, these incredible, mythical chicken fajitas that I lost the recipe to.
But the most amazing thing I ever made traced back to my college days. At Temple, I was eager to show off my culinary skills. I feel that I succeeded when I started making these:
They're like Rice Krispie treats- but way way WAY BETTER. I use various kinds of cereal. I started making them with Lucky Charms, and then progressed to Reeses Puffs (Dave's favorite). Occasionally, I whip up these amazing sauce GOLDEN GRAHAM Smores bars. Today, it was for a work dessert contest.
I know what you're thinking- I don't got time for that! Well, guess what- you do. All you do is pour a box of golden grahams in a microwaveable bowl with some marshmallows, margarine and chocolate chips…. YES, YOU MICROWAVE THEM! Put 'em in the fridge for an hour or so and it's on! 
Here's the recipe I use, however, I skip the nasty corn syrup and vanilla. It takes ten minutes, and will WOW whatever dude you're making them for, or hopefully, co-workers.
What's the easiest thing you've ever made?
Bar carts seem to be newest thing, even just in the Pinterest/Etsy world. One of the most challenging parts of owning one however, is how to stock a bar cart. How do you combine style and function?
First step, is of course, to get a bar cart. For a truly vintage bar cart, cruise flea markets, yard sales, and antique stores. For something newer, try Ikea or World Market.
I like this ÄPPLARÖ outdoor serving cart from Ikea. It's around $90, and actually, just a portable cart.
Now, how to stock a bar or vintage cart. What you stock it with depends on your personal taste and style, plus size of the actual bar or cart.
Here are the basics on how to stock a bar or a cart:
1. Mixers & Liquor: Before you consult a list of every mixer and liquor available, stop. It's not meant to be a full bar. Think of the bar items you use the most, and take it from there. For me, it's olive juice, high end vodka, and olives (dirty martini), the vodka again, as well as grapefruit juice, sugar, and margarita salt (for salty dogs), and dry red wine. Besides the grapefruit juice and olives, most of these don't need to be chilled, and can be kept on the cart. (About $50 for all pictured)
2. Tea Towels: Not only do these look nice, they're handy for spills. Instead of basic ones, try one with an interesting graphic design. I chose bumblebees because of my name- Melissa- meaning honeybee. ($13 from Etsy)
3. Ice bucket: Before company arrives, fill it with ice. There are a million kinds of ice buckets on the market, but I like this vintage ship bucket off Etsy. ($23 from Etsy)
4. Versatile Cocktail Mixer: I usually go for stainless steel, but this cocktail mixer has extact measurements for some of my favorite drinks. It also comes with a tight fitted lid. ($8 from Etsy)
5. Bar Tools: These basic bar tools won't take too much room, and can be kept in the ice bucket or a glass. WorldMarket.com has a variety of basic, affordable tools. ($15 for all, worldmarket.com)
6.Multi-Functional Glasses: One of the biggest mistakes I've ever made is investing in various glassware. At home, it's best to consolidate space with glasses that can serve different functions. These goblets are great for wine, cocktails, or margaritas. ($46 for 6, amazon.com)
7. Cocktail Guide: Rushing to the computer every two seconds isn't ideal- keep a copy of a cocktail guide close to your cart. ($10 from amazon.com)
How would you stock a bar or a vintage cart?
Check out my Polyvore board to see where I found everything!
As most of you know, I'm working for the Queensboro Shirt Company. If you didn't know that, check my LinkedIn page and it'll tell you everything you need to know. Before you starting thinking of how we could possibly work together, just hold off for a bit. More about that later.
Anyway, one of my first projects for QB is assisting with their Annual Food Drive. It benefits the Wilmington branch of The Food Bank of Central & Eastern North Carolina. As fundraisers or charity go, it's pretty basic. It's simply a canned food drive. We're also collecting monetary donations.
This is the part where you think, oh, I get it… she's asking for money. To be fair and straightforward, yes, I am. So if you don't care about that, you can close this window right now. Go back to whatever you're doing and I promise, no hard feelings.
If you're interested in this non-traditional approach for raising funds, please, continue to read.
First, some history. I've tried to raise money before. Anyone who has ever been on a sports team or a part of an organization has. However, this time, there are no candy bars, no bracelets, no wrapping paper to give you. I can't give you anything. Heck, if you're an SEO and reading this, trust me, you probably won't even get a link.  Trust me, I'm not a huge SEO with a ton of followers either, so this will not help you in any way, shape or form. So sorry- maybe you'll get a tweet, but not a link.
(Pause for the- "WHAT?! NO LINK?! I'm out!")
And that's fine. This is just another fundraiser. Even if you donate money, it probably won't change your life. It won't even really change your day. Chances are, no one will even know you did anything.
But maybe, just maybe, if I'm completely transparent about my intentions, I'll get one of you-even just one, even if it's my own mother- to donate to this cause.
So for the few people that are still reading, this is what you have to do. If you're not in Wilmington- you're probably not- you need to donate $10 on our Crowdrise fundraising page. That's the minimum, $10. All the money goes directly to the Food Bank, so I won't even see it. Hence- I won't be rolling around in it, like this:
That's it. That's all I'm asking. In a perfect world, I would get crates and crates of canned soup, tuna, recipe starters, and positive encouragement. In a world with infinite ways to spend $10, I'd feel lucky if anyone made it to the end of the post.
If you did, regardless if you choose to donate, make us both feel like that ecstatic cat rolling around in dollah dollah bills, and share this post:  We Just Need One Can and Five Minutes.
So yeah, I'm really getting nothing from this- that's not even my blog. That's our company blog, that yes, I manage.
That's the end of my rant. I hope that each and every person that read this at least got something out of it— even if it's just a creative way to ask people for money.
Thanks-
Melissa W.
Hola, amigos!
It's been awhile since I posted, but alas, you will have to wait more for my non-award winning wit. Dave and I recently moved into a new place, both started new jobs, hence, we've been absolutely swamped. Plus, I'm waiting to see if I win the Powerball before I post again.
This post specifically, is just for family and friend reference. Tis the season to tell people what you want, and thanks to Amazon, Pinterest, Gifter, Facebook, New Egg, multiple retail wish lists, etc. there are a zillion places to say you want things! What happened to the good old days when my best friend Melissa (not referring to myself in third person, we have the same name) and I would write letters to Santa? We'd eagerly deliver them to Santa's workshop at that mall, and cross our fingers that we'd get everything that we asked for. Since this was when we were in college, those things tended to be bouquets of red roses, Cristal, and Bradley Cooper. Needless to say, we're still waiting.
Anyway- since I've gotten a few requests already (thanks, Mom), I decided to just make a gargantuan list. So enjoy readers, and get into the holiday spirit–judge me on what I'm asking for:
*A Very Vintage and Nerdy Christmas Wishlist*
1. Cozy ass socks, such as these J.Crew Camp Socks. I know, I know, who asks for socks for Christmas?
2. Grease on DVD- still my all time favorite movie with singing. (Sorry Veggie Tales)
3. Cast Iron Tortilla Press, to encourage my still growing obsession with Bon Appetit magazine.
4. A candle, any candle, from Diamond Candles. This apple scented heaven stick looks awesome, and it comes with a free ring!
5. The Newlywed Game, so Dave and I can tirelessly compete with other couples.
6. A gift card to Ikea or World Market. Too much stuff I want from both to list here.
7. A spoon infuser for tea.  No preference, but this one looks good.
8. A wine fridge… if the wine ever makes it to the fridge. If all fails, I'll use it for cheese.
9. The entire Oprah Show or Sex and the City series.
10. Any of these cookbooks.
What do you want for Christmas?